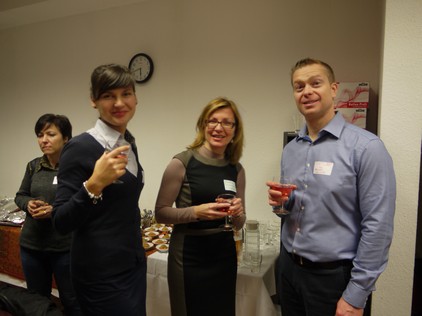 Discussion round with regional experts and the GEP VET partners in Göttingen, Germany
The question of how to teach and learn entrepreneurship was vividly discussed by regional stakeholders and the GEP VET partners during the networking event on October 30.10.2014 in Göttingen, Germany. For the event approx. 20 experts joined to exchange their view and experience on the subject and to discuss possible ways of enhancing entrepreneurial competences in the context of educational curricula.
The discussion started with a short intro on the European programmes and initiatives to promote entrepreneurship – a topic widely represented in a number of departments in the European Commission. The sense of initiative and entrepreneurship is also one of the eight key competences that were defined by the European Commission in its European Reference Framework of Key Competences for Lifelong Learning. The Framework defines the sense of initiative and entrepreneurship as the "ability to turn ideas into action. It involves creativity, innovation and risk-taking, as well as the ability to plan and manage projects in order to achieve objectives."
At the beginning of the discussion round all participants shared their definition of entrepreneurship and what it means to them. In most cases it turned out that assessing risk and taking action were considered most important aspects for both employees and self-employed. Those two, together with decision making and the sense of initiative were also emphasised by present employers and HR managers. Interestingly enough, the subsequent discussion turned towards the theme of self-employment and business-start-ups and where, of course, various related constraints were outlined. As the participants were of different nationalities is was interesting for all to view the topic from different angles and to face the national and local achievements in the subject.
The GEP VET project manager Anelia Dimitrova shared the concept of the project, i.e. – the consortium has developed training modules that shall promote decision-making, sense of initiative, communication skills, risk taking, negotiation etc. entrepreneurial skills in the context of vocational education and training.
The evening closed with delicious appetizers and pleasant informal talks that did not always revolve around entrepreneurship – here the mutual interest in more general European topics prevailed.